Top 10 Favorite Affordable Bluewater Sailboats
I've always said that my favorite boat is whichever one I currently own. Being able to call it "mine" makes it my favorite by default. My first boat was a $400 derelict that I loved (still love) deeply. And she loved me back. However, that doesn't mean there aren't other boats I love that I'd like to call "mine" someday. The following is my personal ranking of my favorite affordable (available for ~$50k) sailboats. I've rather arbitrarily set the price limit around $50k and called it "affordable" in hopes that one day one of these boats might fit my budget and help my family and I to sail far and live free. Also note that other than the top 3, these rankings change in my head almost daily and I really struggled to narrow the list down to just 10.
As you peruse my list, you'll notice that they're all
bluewater cruisers
. You won't find any modern designs, fin keels, spade rudders, sugar scoop transoms, carbon fiber rigs, or plumb bows. What you will find are long keels, heavy displacements, tons of teak (Since I don't own them yet I don't have to varnish them!), many
canoe sterns
, and salty good looks. It's a shame that very few of today's manufacturers build a salty looking sailboat with true offshore abilitiy in a small, affordable package. Luckily I'm proud to be smitten by the treasures of a bygone era. As always, feel free to share your thoughts and your own list of favorites or others you think I should add to mine.
Top Ten Affordable Bluewater Cruisers (according to SailFarLiveFree.com)
10.
CSY 33
: With a production run of only 57 boats, it's not surprising that many people aren't familiar with CSY's smallest sailboat. Her swoopy sheerline and sharp bow beckon me. And just in case you thought all those new fancy deck saloon (DS) designs from the likes of Jeanneau were new and novel ideas, just remember that CSY built this little 33 footer way back in 1978.
CSY 33
9.
Shannon 28
: Walt Schulz, Shannon 28 designer and Shannon Yachts founder, has since moved on to bigger and more modern yachts like the
Shannon 53HPS
. But I think he did his finest work with the Shannon 28, just the second model ever offered from Shannon. She's the smallest boat on my list, but was just too seaworthy and beautiful to leave off the list. I love the reverse transom and transom-hung rudder. And have you seen Shannon's craftsmenship? Just in case you think 28 feet is too few to offer any choice in cabin layout, Shannon gave you three options with names that speak of this boat's purpose:
Passagemaker Layout
,
Cruising Layout
,
Offshore Layout
. I'll take mine in the
Cruising Layout
simply because I love the lounging space provided by the u-shaped settee.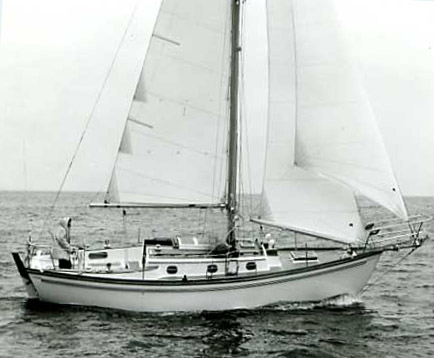 Shannon 28 s/v Peace, completing a single handed transatlantic crossing
8.
Valiant 32
: How far into this list did you think you'd get without running into a Bob Perry designed boat? This one is like a mini-Valiant 40, which is one of the most well-known and proven offshore boats and a member of the American Sailboat Hall of Fame. Just like the 40, Perry designed the 32 to have classic looks you'd expect from a 1970's era world cruiser (canoe stern, etc.) but with a more modern underbody. She's got a long modified keel approaching the look of a fin keel with a skeg hung rudder. The Valiant 32 delivers vintage double-ender aesthetics without the sometimes sluggish sailing of a fullkeel.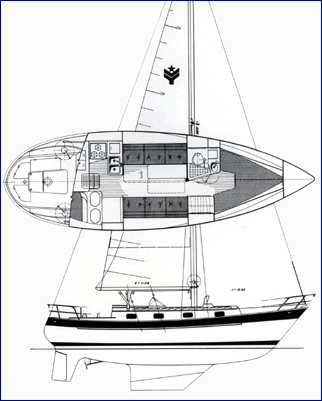 Valiant 32
7.
Fuji 35
: There's just something about a clipper bow and a ketch rig that magically transports my mind to the South Pacific. And if you're going to make the long sail to the South Pacific, you might as well be coddled in a gorgeously warm and wood filled cabin like that of the Fuji 35. The Fuji 35 was also available with a cutter rig, but it looks perfectly balanced to my eye with a mizzen mast.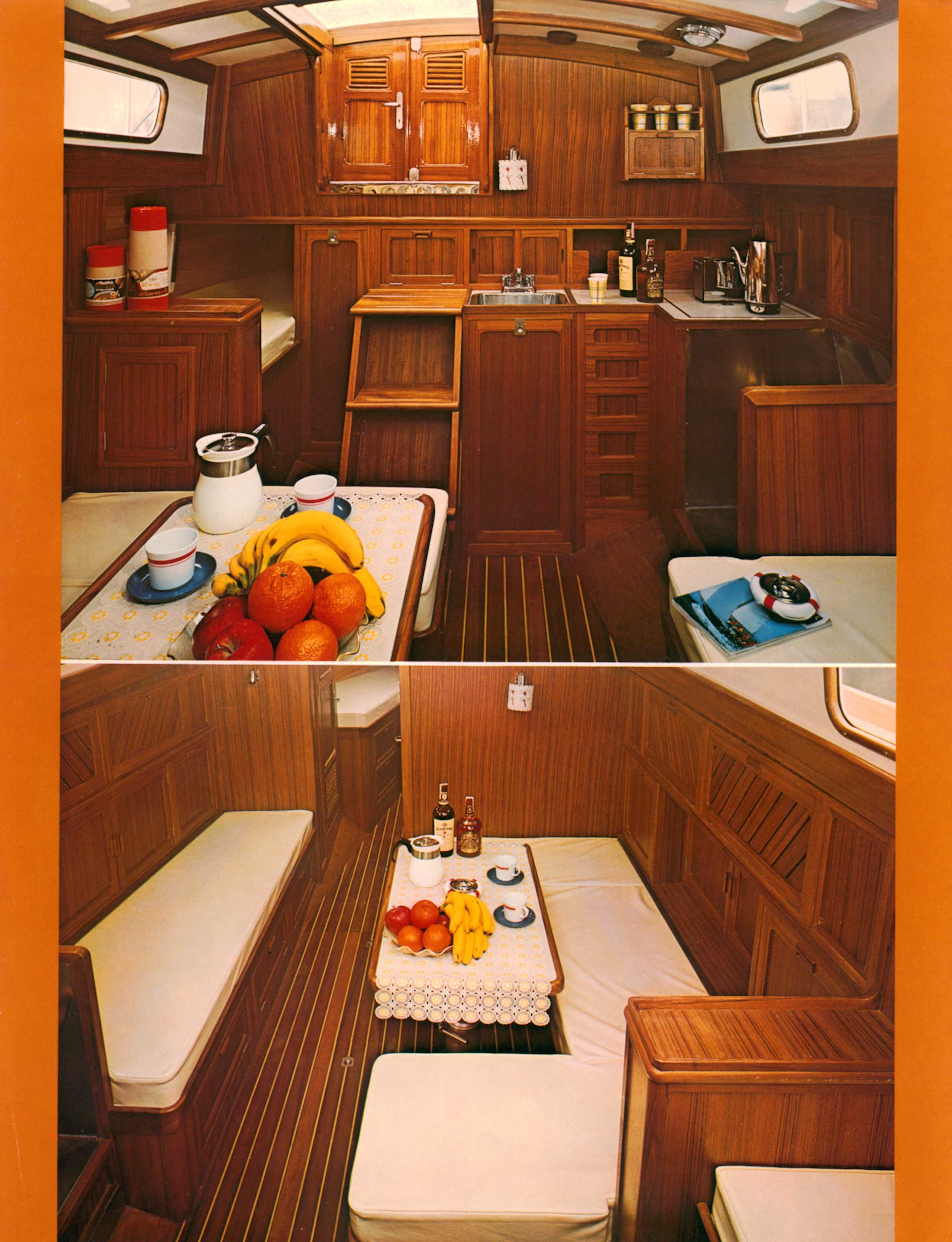 Welcome home (Fuji 35 cabin)
6.
Alajuela 38
: At first glance and without knowing the length, it might be easy to confuse the Alajuela 38 with the Westsail 32. But I assure you, she's a different animal. She's really a closer cousin to the Ingrid 38, which I would have included if it weren't so similar. Have you ever seen a longer keel than that on the Alajuela 38? I bet she tracks like a freight train. And how about that massive rudder? This boat is the very definition of a "stout cruiser".
Alajuela 38
5.
Tayana 37
: The Tayana 37 is the second Perry-designed boat to make my list, and deservedly so as many far-flung anchorages around the globe have hosted a T37. This boat is in many ways Bob's answer to the Westsail 32 hysteria of the 1970's. While Bob Perry himself thought the ketch option added speed and balance, I like the look of the more common Tayana 37 cutter. There were a lot of these beauties produced (~650) so finding one with a price and configuration to your likely shouldn't be a problem. Heck, there's a even a pilothouse version for those who sail in cooler climates.
Tayana 37
4.
Pacific Seacraft Mariah 31
: Here's another boat that seems to be a response to the Westsail 32. Pacific Seacraft (now under new ownership) still produces some very desirable bluewater cruisers today, but the Mariah (not to be confused w/ the newer PSC 31) is vastly different than her modern day siblings. Pacific Seacraft co-founder and Mariah designer Henry Morschadt put together what was known in the 1970's as "the most expensive boat of its size" but now ironically represents somewhat of a bluewater bargain. Even today the Mariah is still thought of as one of the best built, sturdiest bluewater boats around. This reputation is largely due to the 3 inch hull thickness at the bilge and 1 inch thickness above the waterline. If you've ever replaced a thru-hull fitting on your own boat, you'll understand that 3 inches of fiberglass is insanely thick. No one wants to run aground, but you couldn't find a boat better built to take a hit with her full keel, transom hung rudder, prop aperture, and that thick hull.
A good look at Mariah 31's transom hung rudder
3.
Westsail 32
: This boat is already legendary in this blog post, let alone to the cruising community. In 1973, Time Magazine ran a feature about the cruising life with accompanying photos of a Westsail 32 somewhere over the horizon. The Westsail Corporation smartly coined the phrase "Westsail the World" and the cruising boom was on. If you dreamed of remote palm-covered islands and had the gumption to act on your vision, the Westsail 32 was your ticket to paradise. The Westsail's design pedigree is strong with the likes of William Atkin taking credit for the hull's inspiration and William Crealock (of Pacific Seacraft fame) getting credit for the deck design and layout. This is the Lebron James of cruising sailboats: You either love the Westsail 32 or hate it. Many criticize it for being unnecessarily slow and heavy, mocking it with the "wet-snail 32" moniker. But I dare say Westsail fans far outnumber the critics. The 32's seakeeping abilities, strong construction, and reputation for safe passages is nearly unmatched. Remember the movie
The Perfect Storm
? If you recall, there's a brief mention in the movie of a true story about a sailboat that was caught in that perfect storm, yet somehow survived after being abandoned by her crew. That boat was the sailing vessel
Satori
, a tough little Westsail 32.
The Westsail 32's full keel means business (photo by johantheghost)
2.
Baba 30
: You guessed it, another Bob Perry design. I promise I'm not on Bob's payroll. I just can't resist his double-ender designs (
see Bob's guest post on my blog here
). The canoe stern, deckhouse, bowsprit and long keel are SO perfectly balanced. Whenever I see a Baba on the water or at the dock, I can't turn away. The Baba 30 is
very
nearly my perfect boat. She's drop-dead gorgeous inside and out. She's built tough as nails. She sails very well. She's "affordable". So why isn't the Baba 30 number 1 on my list? I'm a realist and if this is suppose to be a list of boats I might one day actually own, well then I'm gonna need more cabin space for those cruises when my then grown daughters come to visit mom and dad. The Baba 30 is really a couple's boat, not necessarily a family boat. Of course there's always the very similar looking Baba 35 or Baba 40, but now we've officially left the land of "affordable" bluewater boating.
My kind of math: Baba 30 + tanbark sails = boat porn
1.
Han Christian 33 Traditional
: This is the way a boat should look; like it's ready to take on the world and be your steady dance partner even in the sloppiest of seas. Remember the almost perfect Baba 30 above? The Hans Christian 33 Traditional sails in and adds to all that I love about the Baba with the addition of a very family friendly and liveable cabin layout. The HC33t features what amounts to luxury accommodations for an affordable bluewater cruiser. The forward cabin features a head, sink and
full stall shower
in the forepeak. That's followed immediately by a pullman berth (perfect for moms and dads!). The salon is just as functional and well thought out. Dedicated nav station? Check. Dinette with seating for 5? Check. Functional and sea-safe galley? Check. Fully enclosed aft stateroom with sleeping for 2? Check. All of this is presented with typical Hans Christian curves carved from hardwoods. On the outside she looks like a massive ocean canoe or Viking ship with a snooty bow and squat stern. The massive bowsprit supports the headsail, leaving room on the bow for the staysail. And look at those shin-high bulwarks around the rail! The underbody is equally beautiful. It features a long full keel with a cut-away forefoot and a fully protected prop and rudder. I dream about this boat. This boat has literally appeared in my day and night dreams multiple times. And I'm pretty sure the latitude on the GPS read 0 in every one of them.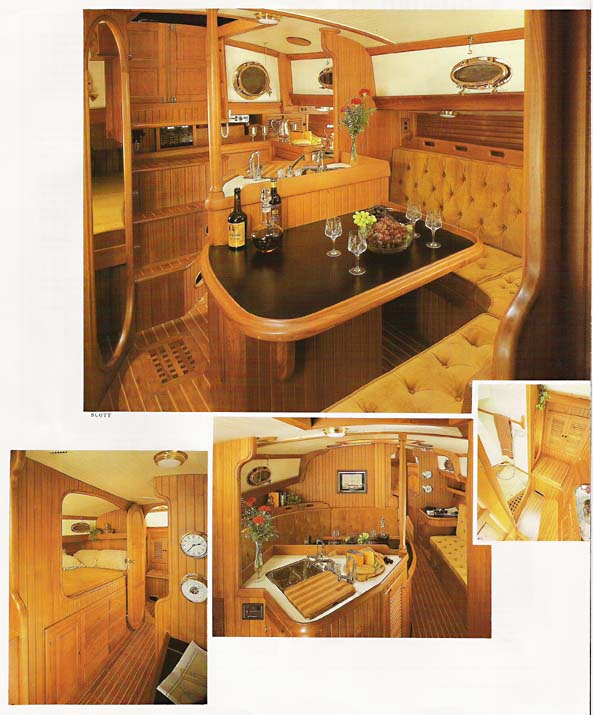 So functional, so beautiful!
HC33t coming at you
HC33t sailing far, living free!
Looking for more information on bluewater sailboats? Check out
this guest post Bob Perry wrote
for SailFarLiveFree.com to get his view on double-enders. And read about
50 years of cruising sailboat evolution by Ted Bewer here
.
Also, see these related blog posts:
Lastly, you can find more great info and recommendations on bluewater sailboats and outfitting them for sea in these books: