Blue Water on a Budget: 5 Budget Cruisers for Crossing Oceans
"I've always wanted to sail to the South Seas, but I can't afford it!"
What these men can't afford is not to go.
-Sterling Hayden from Wanderer
I've read Hayden's quote countless times and I'm always left on the other side feeling inspired and full of questions about what I really want out of life. You can read Hayden's full quote in this blog post I wrote back in 2009.
 The premise of the quote is that a tiny budget and the lack of a shiny new sailboat shouldn't stand in the way of making cruising dreams a reality. Or to use more of Hayden's blunt words, "Which shall it be: bankruptcy of purse or bankruptcy of life?"
If you read any of the mass circulation sailing rags like SAIL Magazine or Cruising World you're left thinking that there simply aren't any suitable cruising boats available if you can't write a non-rubberized $X00,000 check. Want evidence? Here's a few of the cruisers recently reviewed in both of the aforementioned magazines:
Passport Vista 545 Center Cockpit: >$1,200,000
Jeanneau Sun Odyssey 409: $195,000 (base)
Arcona 460: $540,000
Island Packet 360: $349,950
Catalina 385: $208,495 (base)
Of course the above are all new boats straight from the factory to your dock, however, even the brokerage market can seem daunting to an aspiring bluewater sailor on a tight budget. But don't pump your aspiration out the thru-hull with the bilge water just yet. What follows is a list of 5 proven bluewater cruisers that can often be had for less than $30k (If you've got more than $30k but less than $100k to spend, see my
"Top Ten Favorite Bluewater Sailboats")
.The caveats are that you'll be sailing an older vessel that will undoubtedly need some improvements and upgrades and you'll have to trade ultra-suede settees and air conditioning for vinyl and a windscoop smartly placed over your deck hatch. There are definate tradeoffs, but if you choose to heed Hayden's advice, these affordable cruisers will get you there. In the set of boats below, condition will usually trump an extensive equipment list or creature comforts.
Contessa 26: Quirky little Brittish boat with a big reputation. Commonly available between $10k to $20k.
Albin Vega 27
: Scandanavian tank with a devoted following. Lots available between $10k to $15k. See
Cruising Lealea
for a blog about bluewater voyaging aboard a Vega.
Pearson Triton 28
: Alberg design that's legendary among budget cruisers. See
Atom Voyages
for stories of a Triton cruising the world. Currently there are multiple Tritons available on Yachtworld from $6,500 to $28,000. These often show up on Craigslist as project boats for much less.
Southern Cross 28: A canoe-stern beauty occassionally found between $10k-$25k. Donna Lange used a SC28 for her epic solo circumnavigation.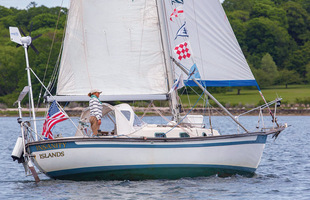 The SC 28
Alberg 30: A true "classic plastic" with several examples currently available on Yachtworld from $10k-$30k.
Remember, the rewards from cruising do not have to be proportional to the cost of your boat or the size of your cruising budget. A $10k Triton and a million dollar Passport both share the same transcendent views in those far away South Pacific anchorages!