Question of the Month with Designer Ted Brewer
I'm really excited to announce a new monthly series that will be appearing here on SailFarLiveFree.com called "Question of the Month with Designer
Ted Brewer
". Many of you are familiar with Ted and his sailboat designs and writing. For those that aren't familiar, you're in for a real treat! Ted has graciously agreed to be featured in my new monthly series where he will answer a sailing-related question (usually focused on design or Ted's experiences) that I present to him. Obviously I'm a big fan of Ted's work and have plenty of questions I'm eager to ask, but I'll also occasionally use questions submitted by you the readers here at Sail Far Live Free. The first post in this series will appear in a week or so, but feel free to submit any questions/topics you may have for Ted to me via the comments below or email until then.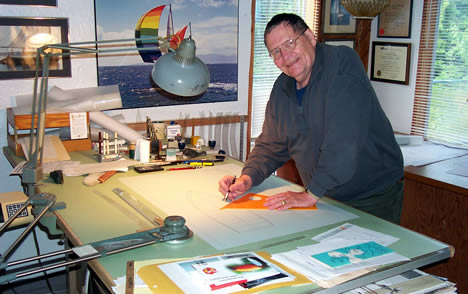 Ted at the drafting table
To whet your appetite, here's a bit of Ted's background in the form of a bio he sent me earlier this week:
Bio: Edward (Ted) Brewer
Ted was born in Hamilton, Ontario in 1933. He loved boats and learned to sail at the age of 13, but the Canadian Navy would not accept him on deck due to his wearing glasses, so he joined the Army instead. In late '56 he decided to return to his first love, boats, so he resigned his commission as Lieutenant and began work on the Weslawn Yacht Design course while awaiting his release. The army let him go the next spring and he was lucky to obtain a job as yacht broker with George Cuthbertson, who later founded C&C Yachts. Ted learned a great deal about design from George and, during the next 3 years, gained experience racing regularly aboard 8 meter yachts and sailing his own small boats up and down Lake Ontario.
Bill Luders was looking for a design assistant in the summer of '60 so Ted applied for the job, was accepted, moved to Connecticut and began work that September. While with Bill, he was involved with drawing up everything from 5.5 meter sloops (about 50 of them!) to 12 meter America's Cup racers, ocean racing yachts, cruising yachts and powerboats. Ted assisted in the modifications to
Weatherly
for the successful '62 Cup defense, did all the drawings for the Luders' designed 12 meter yacht
American Eagle
and, with Bill, supervised her construction. Ted also raced aboard Luders' swift and lovely 40' sloop
Storm
, and crewed aboard other Luders' designs on the Miami-Nassau, Annapolis-Newport and similar distance events.
In '67, Ted moved to Brooklin, Miane to hang out his shingle but still did all Luders' drafting, including the conversion of
American Eagle
to a very successful ocean racer, owned and skippered by Ted Turner (founder of CNN). In partnership with Bob Wallstrom, Ted produced over 100 custom and production designs from 18' catboats to the Whitby 42, the 56' aluminum ketch
Mystic
, the exquisite 62' ketch
Traveller III
and, going from the sublime to the ridiculous, a 64' three masted schooner approved by the USCG for daysailing with 125 passengers and crew. One of the yachts, the steel Huromic 35'
Globe Star
, circumnavigated in '81, skippered by Marvin Creamer, without the use of sextant, compass, or instruments of any kind except the owner's knowledge of winds and ocean currents' Then, in 2002, Ed Arnold solo'd an aluminum sistership,
Nomad
, around the globe, Sitka-Sitka, in 11 months. Interestingly, both of these adventurers made their voyages in the rough waters below Cape Horn, Cape of Good Hope and Australia, neither the easiest nor most comfortable course.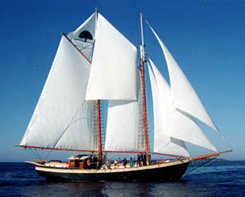 Brewer designed Schooner Tree of Life, named one
of the world's 100 finest yachts by SAIL Magazine
Over the years, Ted has raced and cruised in the waters from Hawaii (3 Trans-Pacs aboard
Mystic
), to the eastern Mediterranean, from the Caribbean to New England, and from the Great Lakes to the Pacific Northwest.
In 1999 Ted and his wife Betty returned to Canada and settled on Gabriola Island, British Columbia where he completed a few more designs, and donated his time, lecturing at Silva Bay Shipyard School. Finally, weary of ferry schedules and expense, they moved to Agassiz, BC in '06 where Ted still does some consulting and sells stock plans of his designs. In addition to completing over 270 designs, Ted has written for the major yachting magazines and completed 3 books; one of them,
Understanding Boat Design
, has been a popular primer for over 40 years now.
The following are of the guest posts Ted has written for
Sail Far Live Free
:
My Favorite Designs: Mystic - By Ted Brewer
My Favorite Designs: Black Velvet II - By Ted Brewer
My Favorite Designs: Goderich 35 - By Ted Brewer
Fifty Years of Cruising Sailboat Evolution - By Ted Brewer