Queen's Cup
It's been a while since I've updated the blog, so I thought I'd take the time to make a few posts.
I was blessed with the good fortune of being asked to crew on 37 foot sailboat for the 2008 Queen's Cup race. For those unfamiliar, the Queens Cup (
http://www.ssyc.org/queenscup/default.asp
) is one of the oldest cups in world-yachting still being offered for competition every year. The race begins on the western shore of Lake Michigan in Milwaukee and finishes on the eastern shore in Grand Haven.
Our boat and crew crossed on Wednesday morning from Grand Haven to Milwaukee (approximately 72 nautical miles) in near perfect sailing conditions. We had 15-25 mph winds on our beam nearly the entire way and averaged about 6.8 knots for an 11 hour crossing.
The race back home was even better. We started in a thunderstorm and tacked around the starting area with a double reefed main. Eventually the storm passed and we shook out the reefs and enjoyed an all night sail with the same winds (15-25 mph) but an even faster average speed of about 7.5 knots for a 9 hour and 47 minute crossing. The boats, stars, lake conditions, skipper and crew were all very enjoyable.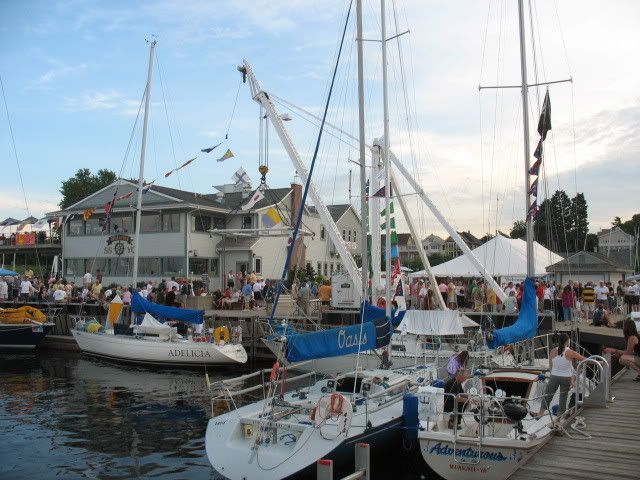 I learned a lot about sailing and Lake Michigan and am grateful to the skipper and crew of Windfeather for allowing me to take part.