New Paint!
It's been a while since I've made a blog post, but I have a legitimate excuse: I've been busy with spring boat projects!
Over the last three weeks, I finally finished up the new paint job. We painted everything above the waterline on the boat (hull sides, boot stripe, cove stripe, deck, non-skid, cockpit). As with many projects, the preparatory work was the hardest part. In preparation for painting, I sanded the entire boat first with an orbital sander, than by hand. Next, I washed over the sanding residue with warm water and a bit of soap.
I then applied one coat of Interlux Pre-Kote. This, of course, was followed up with another round of sanding. Then the next coat of Pre-Kote primer was applied. Followed by more sanding. Needless to say, my forearms are now Popeye-esque from all the sanding.
After priming, my dad (thanks dad!) helped me roll and tip two coats of Interlux Brightsides polyuerethene onto the hull. We were both very impressed by the ease of application and the end result of a shiny, hard finish. I also used Brightsides for the new dark blue boot stripe, dark blue cove stripe and white cockpit. Interlux Interdek was used on the non-skid portions of the deck. Interdek is a polyuerethene very similar to Brightsides, but with small polymer beads added for traction. It also has a low sheen/gloss finish to cut down on glare. What follows are before and during pictures. Stay tuned for some "after" pictures very soon!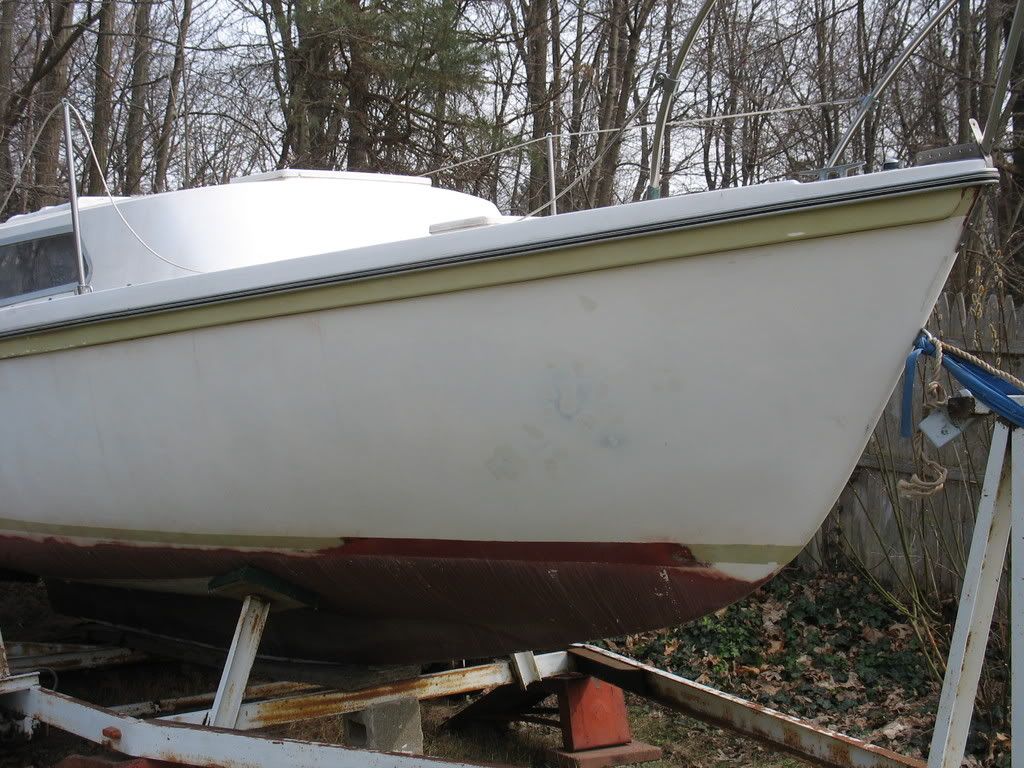 �
�